flash-file-system-2970-3550-3560-3750-and-image-handling
It's very useful to know, how a file system on a Catalyst
2970, 3550, 3560, and 3750 Flash file system
work. If you loose your password, it's a easy way with above mentioned hardware
to set it to factory default.
Step-by-Step Recovery Procedure
As a prerequisite, a PC must be attached to the console port to the switch.
Choose a terminal software of your choice. For example putty.exe.
Unplug the power cord
Press the mode button while you reconnect the power cable to the switch
Release the MODE button after the STAT LED goes out
now you should see the switch:prompt
It depends on the model. Press the mode button for approximately 30-40sec. Now, you should be on the safe side
Issue the flash_init command or if availabe the load_helper command
to see the flash:/ file system
The startup config file is usually the config.text.
If you change the boot system value on a completely
reloaded switch, the start-up config file will be the name you have been entered in
the boot system variable.
See next step.
Choose a new startup(config.text)name of your choice.
The switch create a new start-up config file on the switch file system, which is named 'new.file.startup'
If you do any changes on the switch-config, the alternation will be saved
in the new generated start-up config file ('new.file.startup')
Summary
start-up file = config.text or name of the boot config file variable
(Config file : flash:/config.text)
Password recovery
If you forgot you password and so forth – act like the following.
Start the switch into the rommon mode like mentioned above.
Issue the flash_init command and type ? and press enter.
Now you see the config file generated on the file system.
If you want to delete it – do like this
Image Handling
There a two different types of IOS image files.
To download a bin file to the switch use the copy tftp flash command to do this.
Prerequisits are the ip reachability of the switch and a tftp server software on the PC.
For example tftpd32 or tftpd64.
Bin files can be copied directly to the flash:/ root directory to functional in a proper manner.
Tar files have to be extracted on the system file. Tar file will give you ability to manage the switch via a browser.
How to extract an image tar file?
PC TFTP Server IP = 10.10.10.11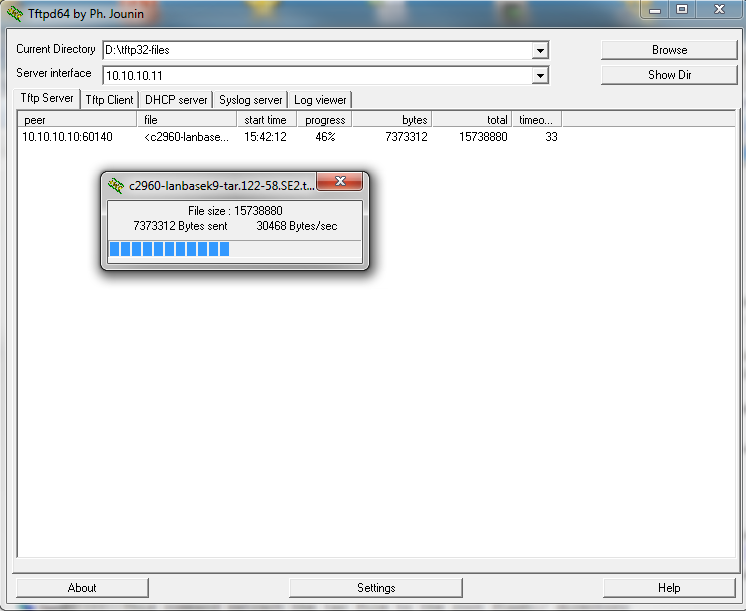 How to delete a directory completely